Description
Please be aware that a new version Autodesk Flame 2023 is available here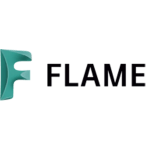 Autodesk Flame 2021
3D visual effects (VFX), finishing, and color grading software.
Overview
Enjoy the speed of 2D compositing—with 3D visual effects
Flame® 3D VFX and finishing software provide powerful tools for 3D compositing, visual effects, and editorial finishing. An integrated, creative environment means faster compositing, advanced graphics, color correction, and more.
Discover a unique way to isolate and modify common objects
Generate a 3D normal map from face detection to use for color adjustment, relighting, and digital cosmetic and beauty work. Use selective render options to refine the result in combination with the selective that is generated by the normal map. Machine learning normal maps.
Maintain a creative mindset in a simple, task-based environment
Edit, composite, and color correct in one environment, without toggling between software. Create and iterate quickly for more productive client sessions. Image Timeline FX and batch node.
FLAME
User interface of Flame 3D VFX software featuring a TV screen with 2 boxers in a ring set on a stage. Tools for fast and interactive visual effects finishing and 3D compositing.
FLAME ASSIST
User interface of Flame Assist UI with a shot of a young woman's face and another with her standing in a hallway. A timeline-centric, fully compatible assistant station for Flame.
FLARE
User interface of Flare featuring a profile shot of a man's face and upper body with mountains in the background. A fully compatible creative assistant station for Flame in collaborative VFX workflows.
LUSTRE
Lustre has a rich creative toolset for primary and secondary grading, ideal for a broad range of projects. Real-time color grading software for creative look development.
Workflows
Flame + Shotgun
Use Shotgun with Flame to speed up the review and approval process. Integrate Flame with other tools in your post-production pipeline, and use Shotgun production management software for reviews and approvals.
Flame + Maya
Integration between Flame and Maya lets you move quickly from one tool to the other. Collaboration with Maya enables the import of files and FBX file round-tripping, resulting in higher-quality scenes, faster.
Flame + Mudbox + Maya
Interoperability with Flame, Mudbox, and Maya helps drive creativity and productivity. Use the new "Send to" workflow to instantly exchange 3D scenes between Flame and Mudbox or Maya.
What's included in your Standard plan
Reporting: Product usage reporting
See an aggregate summary of how many people are using each product and version, and the overall frequency of use.
Administration & Security: 2-step verification
Add another layer of security to user accounts.
Bulk import & assign
Upload a .csv file to add and assign a large number of users at once.
Support & Adoption Services: 8×5 live support
Contact an Autodesk specialist for help during your local business hours.
Collaboration: Autodesk Drive
Securely store, preview, and share design data.
Shared views
Quickly and securely share work with stakeholders.
System requirements
(Flame, Flare, Flame Assist, Lustre)
Linux
OS: CentOS 7.4 or CentOS 7.6
GPU: NVIDIA M6000 or newer
CPU Intel 64 multi-core processor
Audio card: ALSA or Pulse compatible
RAM: 64 GB
MAC
OS: High Sierra 10.13.x, Mojave 10.14.x Catalina 10.15.1+ Big Sur 11.0.1 (Flame 2021.0.2, Flame 2021.1.1, Flame 2021.2+)
GPU: Minimum 4 GB VRAM
CPU: Intel 64 multi core processor
Audio card: Internal Core audio
RAM: 16GB
Legal disclosures
Autodesk makes software and services available on a licensed or subscription basis. Rights to install, access, or otherwise use Autodesk software and services (including free software or services) are limited to license rights and services entitlements expressly granted by Autodesk in the applicable license or service agreement and are subject to acceptance of and compliance with all terms and conditions of that agreement. When you subscribe to a plan, it may renew automatically for a fixed fee on a monthly or annual basis, subject to availability. All benefits and purchase options may not be available for all software or services in all languages and/or geographies. Access to cloud services requires an Internet connection and is subject to any geographical restrictions set forth in the Terms of Service.