Description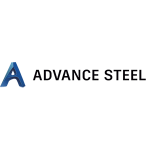 Autodesk Advanced Steel 2021
Overview
Advance Steel is 3D modeling software for steel detailing, design, fabrication, and construction
Structural engineers can use a bidirectional link between Advance Steel detailing software and Revit to collaborate on the same 3D model, saving time and minimizing errors.
Automate repetitive tasks with an intelligent design toolset
Library of parametric steel connections. Generate complex structures in fewer steps with the Dynamo Extension for Advance Steel. Use the library of parametric steel connections and dedicated tools to accelerate design and other tasks.
Use automated tools to create accurate drawings and data for fabrication
Steel shop drawings and NC data. Automatically generate and update steel fabrication deliverables. Create model-driven shop deliverables and NC files to streamline fabrication and installation.
Workflows
Advance Steel + Revit
Workflow shows how Revit and Advance Steel work together from design to fabrication. Revit and Advance Steel can work together in a seamless BIM workflow from design to fabrication.
Advance Steel + Dynamo
Complex geometry structures being solved. Use Dynamo with Advance Steel to help solve complex geometry structures, no programming experience required.
Project stakeholders collaborating
Advance Steel + Navisworks
Export models to Navisworks and collaborate with stakeholders to reduce the risk of unexpected jobsite issues.
What's included in your Standard plan
Reporting: Product usage reporting
See an aggregate summary of how many people are using each product and version, and the overall frequency of use.
Administration & Security:
2-step verification. Add another layer of security to user accounts.
Bulk import & assign
Upload a .csv file to add and assign a large number of users at once.
Support & Adoption Services:
8×5 live support
Contact an Autodesk specialist for help during your local business hours.
Collaboration: Autodesk Drive, Securely store, preview, and share design data.
Shared views, Quickly and securely share work with stakeholders.
Legal disclosures
Autodesk makes software and services available on a licensed or subscription basis. Rights to install, access, or otherwise use Autodesk software and services (including free software or services) are limited to license rights and services entitlements expressly granted by Autodesk in the applicable license or service agreement and are subject to acceptance of and compliance with all terms and conditions of that agreement. When you subscribe to a plan, it may renew automatically for a fixed fee on a monthly or annual basis, subject to availability. All benefits and purchase options may not be available for all software or services in all languages and/or geographies. Access to cloud services requires an Internet connection and is subject to any geographical restrictions set forth in the Terms of Service.