Wacom
Products of Wacom Co.Ltd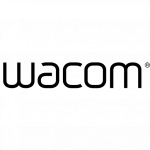 Founded: 1983, Ageo, Saitama, Japan
The digital ink experience
Wacom is the global leader in the pen display and tablet market for creative users. As a technology company, we provide cutting-edge digital ink solutions for a wide range of partners using and producing smartphones, tablets and digital stationery.
Business lines
Our organizational structure reflects the two business segments of branded products and technology solutions.
The Branded Products Business includes business lines for creative users (pen tablets, pen displays and mobile pen devices), for consumers (products optimized for digital ink) and for enterprises and organizations (business solutions with digital signature tablets and LCD pen tablets).
The Technology Solutions Business comprises solutions for manufacturers of mobile devices and stationery (EMR and Active ES pen sensor systems for smartphones, tablets and PCs).
Across businesses, the Ink Division develops our digital Wacom Ink Technologies and related products, software solutions and services.
Company Website: www.wacom.com
Showing all 11 results