Adobe Sign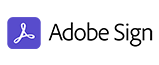 What is Adobe Sign?
Adobe Sign (formerly EchoSign) is a cloud-based e-signature service that allows the user to send, sign, track, and manage signature processes using a browser or mobile device. It is part of the Adobe Document Cloud suite of services.
Adobe Sign is complying with the majority of the digital signature laws world-wide.
No products were found matching your selection.