Description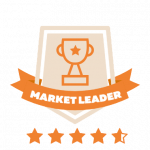 Read the report
Adobe Sign Enterpise Overview
Send and sign faster.
Keep workflows moving by easily adding e-signatures. Adobe Sign lets employees click to launch automated signing processes for individual signers or thousands of recipients — instantly. Customers and constituents simply tap to sign documents from anywhere.
Works with the apps you already love.
Adobe Sign works seamlessly with Adobe Acrobat DC and integrates with the Microsoft apps your teams rely on.
Adobe Sign Enterprise Integration
Microsoft 365, Send documents for signature directly from Microsoft Word, Outlook or PowerPoint
Dropbox, Send PDF and Word documents for signature directly from within Dropbox.
Prebuilt integrations, Quickly add e-signatures to your business applications with top-rated integrations, including Salesforce, Workday, ServiceNow, Ariba, Apttus and more
Preferred by Microsoft, Adobe Sign is the preferred e-signature solution across the Microsoft enterprise portfolio, including SharePoint, Dynamics, Teams and Flow
APIs, Embed e-signature processes into your customised business applications and update data in back-end systems automatically with comprehensive APIs
Single Sign-On, Let users sign in with their existing corporate ID and passwords, social IDs and more
Account delegation, Delegate account viewing, sending or modifying to a different person, e.g. when someone is on holiday or leaves the company
Trusted by millions.
Adobe Sign has processed more than 8 billion transactions from millions of signers around the globe. Whether you're a small startup or a global organization, Adobe Sign can help your business work smarter and faster. Our digital workflows deliver on the immediate needs of every department, across every part of your business.
Enterprise-grade security and compliance.
Adobe Sign is as simple as you want and as secure as you need. It's certified compliant with ISO 27001, SSAE SOC 2 Type 2, FedRAMP Tailored, and PCI DSS. Additionally, Adobe Sign can be configured or used in a manner to allow organizations to meet industry-specific compliance requirements such as HIPAA, FERPA, GLBA, and FDA 21 CFR Part 11.
Save time and money.
Start using Adobe Sign in hours or days — not weeks or months. Our Professional Services team can guide you through every step. From cost to time savings, Adobe Sign delivers immediate value — $28 saved in hard costs per transaction, 28x faster approval cycle time, and $6.8 million in total benefits by transitioning to fully digital workflows.*
* "The Total Economic Impact of Adobe Sign." Forrester Consulting. August 2019.