Description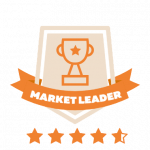 Read the report
Adobe Sign Transaction
What is an Adobe Sign Transaction?
Transactions/Adobe Sign user: A transaction is a document sent from your account for signature. It can reach several recipients which are still counted as a single transaction.
What is Adobe Sign?
Adobe Sign is a cloud-based e-signature service that allows the user to send, sign, track, and manage signature processes using a browser or mobile device. It is part of the Adobe Document Cloud suite of services.
Electronic signatures.
Upload a document that needs to be signed, add the signer's email address, and hit send. That's all there is to it.
Tracking and management.
Adobe Sign puts you in control. With real-time notifications and reminders, it's a breeze to track and manage every document you send out to be signed.
Mobile power.
Send, track, and manage the entire signing process wherever you are, from your mobile device. You can even scan paper documents with your device's camera.
Microsoft 365 integration.
Sign documents, send documents to others for signature and track the entire process — all from within your Microsoft 365 applications.
Automatic record-keeping.
Adobe Sign automatically and securely stores final signed documents and audit trails of every transaction — making it easy to quickly find what you need while reducing risk.